Covered Walkways and Walkway Canopies
A covered walkway can be placed between buildings, above entrances and around pathways. Users of the walkway are kept dry and sheltered, whatever the weather, making their experience on your premises a positive one.
Covered walkways or walkway canopies can be used in a variety of environments, including schools, hospitals, shopping centres, garden centres and care homes. They are suitable wherever there is a path or walkway connecting different buildings together.
We offer a range of different covered walkways including cantilever, wall mounted, free standing and flat or curved roofs. Our covered walkways are steel framed and have many cladding options ranging from PET to Plastisol coated steel. The frames can be manufactured from a steel box section and are aluminium or stainless steel and powder coated to give them a unique finish.
The translucent roofs of our walkway canopies allow light through the windows of any classrooms or offices that the canopy is positioned above. We also offer optional side panels for further protection from wind and rain.
Benefits Of Covered Walkways
Visitor experience is improved by providing cover between buildings
Can be used to guide visitors around your site
Keeps vulnerable patients warm and dry
Encourages customers to spend longer on your premises
Keeps goods dry when being transported between buildings
Contact SAS Shelters today for a Free Site Survey & No Obligation Quote - Get in Touch
Walkways
Why SAS Shelters Covered Walkways?
We are a family business with half a century of experience and expertise in manufacturing and steel fabrication. Our bespoke service includes the design, manufacture and installation of your covered walkway, allowing you to enjoy exactly the product that you want.
We offer a free site survey, as well as a no obligation quote to give you the chance to see precisely what we can produce for you.
It is essential that the space that requires a covered walkway gets a canopy that you love. We can offer a variety of colours, styles and dimensions to produce the perfect design for your premises. Whether it is keeping pupils dry between lessons, protecting patients or improving the experience of your customers, we can help.
All of our covered walkways are manufactured in the UK, using the best quality workmanship and materials, so you can be sure of an excellent service.
Our Service Includes
Free site inspection and survey
A detailed consultation on the best solution for your premises and the best materials to use
Full design drawings and artist impression of how it will look in your school
Assistance with the planning process and all required documents submitted to the planning office
Full installation with the minimum amount of fuss or disruption
Can't find the perfect walkway? We offer a made to measure design service - Get In Touch
We Offer a Range of Covered Walkway Options
Wall Mounted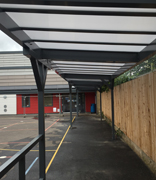 Our wall mounted covered walkways are fixed to a wall on one side, with supporting legs on the other side. This can run alongside a building and shelter doorways.
Free Standing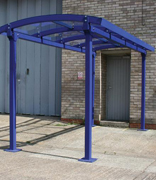 A free standing covered walkway does not require a wall to run alongside. It can have one or two sides which join two buildings together.
Cantilever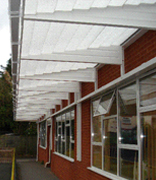 A cantilever walkway canopy is suspended by a roof. This type of covered walkway has the added advantage of not needing any supporting posts.
Flat Or Curved Roof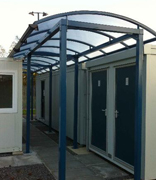 We have both flat or curved roof options available, both made using polycarbonate panels to help block out harmful UV rays, as well as wind and rain.
Useful Information
Contact SAS Shelters today for a Free Site Survey & No Obligation Quote - Get in Touch