Soft Play Area Flooring
Our soft play flooring is ideal for play areas in schools, nurseries and parks. This smooth and cushioned surface helps to eliminate trip hazards and keeps children safe should they fall.
Soft play surfaces come in a number of different forms, including rubber grass mats, bonded rubber mulch, loose play bark and Wet Pour surfacing. Wet Pour surfaces are one of the most popular types of play area flooring as it is a two layer system which consists of a base layer of black rubber granules, topped with a coloured layer of finer rubber granules which make the surface slip resistant and non-abrasive. This type of soft play flooring allows you to add unique graphics and designs which can make your flooring both attractive and educational. The Wet Pour system can be installed in a range of depths depending on the Critical Fall Height rating needed for any play equipment in the area.
Benefits Of Soft Play Flooring
Keeps children safe and protected
Soft play graphics help children to learn outdoors
Allows fun and safe play and activities
Soft play flooring is attractive and educational
Can help to improve your Ofsted report
Contact SAS Shelters today for a Free Site Survey & No Obligation Quote - Get in Touch
Why Choose SAS Soft Play Flooring
At SAS we offer a range of soft play flooring that keeps the safety and development of children at the centre of our designs. We offer a range of flooring types which will allow you to choose the best soft play surface for your play area.
As a family run business we offer a personal service, which means we can work closely with you to develop any bespoke designs that you would like to include on your floor. With graphics that range from patterns and pictures to educational puzzles, you can create your own unique design that suits your environment and the age of your children.
We will design, manufacture and install your soft play flooring, making it easy and stress-free to incorporate into your play area.
We use wet pour surfacing, a popular soft play flooring option which offers an extremely high level of safety and impact absorption.
Our Service Includes
Free site inspection and survey
A detailed consultation on the best solution for your premises and the best materials to use
Full design drawings and artist impression of how it will look in your school
Assistance with the planning process and all required documents submitted to the planning office
Full installation with the minimum amount of fuss or disruption
Require a custom solution? We offer a made to measure design service - Get In Touch
Find out more about Wet Pour Soft Play Surfaces
What Is Wet Pour Surfacing?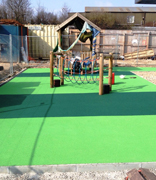 Wet Pour Surfacing is a two layer system which comprises of an SBR impact absorbing base layer, topped with an EPDM wearing course layer which can include a range of colours and designs.
The base course is manufactured from 100% recycled SBR rubber crumb which is mixed with a polyurethene resin binder.
The impact absorbing safety qualities comes from its shock pad base layer, the depth of which is determined by the Critical Fall Height rating that your play equipment has.
One big benefit of Wet Pour surfacing is that it is completely porous. This means that any rain water will drain thoroughly, ensuring there are no puddles or slippy standing water left on the surface. This means that outside play can be resumed quickly and easily after any spells of bad weather.
Soft Play Surface Graphics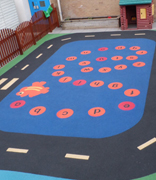 Any flooring for a play area not only needs to take safety into account, it also needs to be visually appealing.
Wet Pour surfacing allows you to add coloured graphics which will make your flooring fun and stimulating for all.
These graphics can help to improve education, fitness and social skills depending on the designs that you choose.
The thermoplastic markings are applied onto a macadam surface using a range of coloured EPDM to create a visually stunning rubber safety surface.
All of the graphics are installed to a very high standard and have a neat, clean finish.
Decorative Play Area Flooring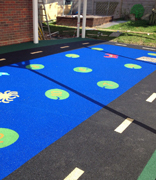 Keeping an area designed for children stimulating and exciting is easy with the decorative flooring options that come with Wet Pour surfacing.
The extensive range of bright and natural colours allow you to create your own unique surface suitable for the children that use your facilities.
Your graphics could include fun patterns, individual images, or a theme such as a race track, farm yard or outer space. You can also incorporate educational activities such as number grids, hopscotch or letters and phonics. Whatever you choose, decorative flooring is a simple and fun way to make the most of your playground.
Wet Pour Specifications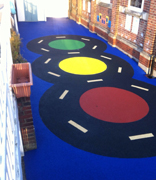 Wet Pour flooring is most commonly installed in nurseries, schools and parks because it is a soft safety surface which meets the necessary BS EN 1177 safety requirements.
Critical Fall Height requirements are met by the impact absorbing base layer, the depth which can be varied according to your needs.
The full system thicknesses vary between 30mm and 150mm.
The Wet Pour rubber surfacing wearing course is an EPDM rubber crumb which is mixed and bonded with a polyurethene resin and is then screeded, rolled and floated by hand.
Useful Information
Contact SAS Shelters today for a Free Site Survey & No Obligation Quote - Get in Touch