Waiting Shelters and Teenage / Youth Shelters
Waiting shelters are essential facilities for the local community, schools and recreation areas. Anywhere that requires a waiting or meeting area needs a covered shelter to protect its users.
This could be a bus or tram stop, parent waiting areas in schools, sheltered playground areas, dugouts on sports pitches, or teenage shelters in parks and games areas. These waiting shelters protect the users from adverse weather conditions and can provide seating for young and old alike.
Our waiting shelters and youth shelters include a range of options including an anti-graffiti coating and seating within the shelter. There is also a choice of side panels to suit your required application.
The shelters can be made from a variety of different materials, and are available in a selection of colours and finishes, which allows them to blend in with any surroundings or take on any commercial or local authority branding. The Wimbledon Shelter uses a free-standing modular design made from galvanised mild steel tube.
Benefits Of Waiting Shelters
Provides all weather protection for its users
Creates a meeting area for teenagers
Gives students and parents waiting areas at schools
Deters crime and vandalism
The local community can enjoy covered waiting facilities at public transport stops
Contact SAS Shelters today for a Free Site Survey & No Obligation Quote - Get in Touch
Waiting & Teen Shelters
Why Choose SAS Waiting Shelters?
Our waiting shelters and youth shelters are custom built in-house to provide you with the product that you need. Each shelter is made to measure to meet your specific requirements. Our selection of materials will make the shelters durable and long-lasting in the face of adverse weather conditions.
Our anti-graffiti coating means that our teenage shelters will be preserved from vandalism and remain available for all to use. These robust shelters are suitable for a variety of uses from housing groups of teenagers, to providing a waiting area for public transport.
With half a century of experience, we can bring a wide range of expertise to every project.With top quality workmanship, and a complete service from design to manufacture and installation, we can create a robust and contemporary design for any public area.
Our Service Includes
Free site inspection and survey
A detailed consultation on the best solution for your premises and the best materials to use
Full design drawings and artist impression of how the finished product will look
Assistance with the planning process and all required documents submitted to the planning office
Full installation with the minimum amount of fuss or disruption
Can't find the perfect waiting shelter? We offer a made to measure design service - Get In Touch
Why Install Teenage Shelters In Schools?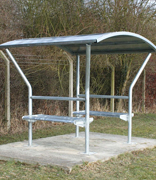 Providing a youth shelter in schools gives teenagers the chance to separate themselves from younger children.
Teenage shelters keep young people sheltered not only from the wind and rain, but also from the sun's harmful rays.
It provides youngsters with an area to relax, eat lunch or even study outdoors.
It can become a homework area or a sheltered activity area which the whole school can make use of.
A waiting shelter is also an ideal area for parents to wait when collecting children from school or for supervising staff.
These shelters can also be positioned alongside playing fields and sports pitches on any surface to give sports teams a place to gather during a game or for spectators to watch.
Youth shelters can take on a diverse range of uses on school premises that can benefit both students and parents alike.
How Do Teenage Shelters Benefit Public Areas?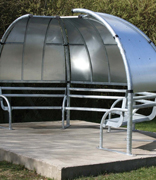 Teenagers are often known to gather in public areas, which can lead to vandalism or unpleasant atmospheres.
A teenage shelter in a park or public area gives young people a place to congregate in comfort without intimidating others around them.
It is thought that the positioning of youth shelters in the right places can reduce crime rates, graffiti and vandalism as it provides teenagers with somewhere to socialise safely.
Our waiting shelters can include seating and are robustly made, meaning that teenagers can enjoy the benefits of being outdoors in comfort.
Teenagers who like meeting in groups can gather to socialise or watch sports happily with protection from the weather and a safe place to assemble.
Youth shelters allow parks, sports grounds, recreation areas and other public areas to remain tidy and pleasant for visitors to enjoy all year round.
Useful Information
Contact SAS Shelters today for a Free Site Survey & No Obligation Quote - Get in Touch