Shop and Commercial Canopies
Shop and commercial canopies can be positioned above windows and entrances to provide shelter from wind and rain for your customers.
These shop window canopies also protect your customers from the sun and shade your windows from heat and glare. Shop canopies are idea for shops, hotels, restaurants and any other commercial premises. We offer a full range of designs enabling us to provide shop canopies that complement all types of retail outlets.
We can provide traditional awnings or Dutch canopies so you can be sure there is something to suit every business.
A commercial canopy is both attractive and practical and can help draw people to your business. To help you stand out even further, your chosen canopy can be printed with your company design or logo. This acts as terrific advertising and works well to enhance your shop front.
Benefits Of Commercial Canopies
Makes your business stand out
Provides wind and rain shelter for customers
Keeps customers shaded from the sun
Controls the summertime heat inside your premises
Provides eye-catching advertising for your business
Contact SAS Shelters today for a Free Site Survey & No Obligation Quote - Get in Touch
Shop Canopies
Why Choose SAS Shop Canopies
Here at SAS, we offer a full range of designs and materials to create shop canopies that will complement all types of retail outlet.
We offer a free site survey which allows us to work closely with you to create a commercial canopy that is perfect for you and your business. We are a family run firm with 50 years of experience in manufacturing and steel fabrication which means we can offer expertise and top quality workmanship.
Our personal service allows us to work with you to create excellent artwork which can be printed onto your canopy. This makes for fantastic advertising and helps to make your shop front attractive and eye-catching. 
Our Service Includes
Free site inspection and survey
A detailed consultation on the best solution for your premises and the best materials to use
Artist impression of how your shop canopy will look
Full design mock up including your company logo and corporate colours
Full installation with the minimum amount of fuss or disruption
Can't find the perfect shop canopy? We offer a made to measure design service - Get in Touch
Dutch Canopies or Commercial Awnings?
Commercial Awning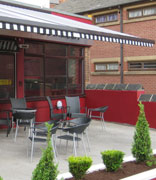 When choosing a commercial canopy, you need to choose whether it will be a traditional awning or a Dutch canopy.
A commercial awning is a classic retractable folding arm awning that extends out from your building above your shop window.
It is a popular choice due to its easy to use mechanism which can be manually or electrically operated. 
Dutch Canopies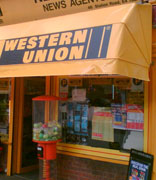 A Dutch canopy is easily recognised by its curved shape. It not only provides excellent shelter, it also becomes a fantastic three dimensional sign for your shop.
A Dutch canopy is a quadrant, triangular, boxed or semi-circular frame that is covered in fabric.
A Dutch canopy can also be fixed or retractable, making it a stylish and functional addition to any shop front.
Useful Information
Contact SAS Shelters today for a Free Site Survey & No Obligation Quote - Get in Touch