Cantilever Carports and Lean-To Carports
A carport is a covered parking area, ideal for home use to shelter your car from any harsh weather, which means that the paintwork on your vehicle will last longer. Our cantilever and lean-to carports can protect not just cars, but also motorcycles, caravans, trailers and even boats. They also act as fantastic patio and entrance covers.
Our carports are made from tough and durable materials such as polymer resin. All our lean-to and cantilever carports are built to last, ensuring that the product will last for years to come. During the summer months, your car will be kept cool and the paintwork shielded from UV rays. During the colder months, snow, wind, rain and hail will all be kept at bay, meaning there will even be less ice to scrape from your windscreen, saving time and effort on those cold winter mornings.
Getting to and from your car will no longer expose you to bad weather, small children can be transported to and from your vehicle, whilst keeping dry and warm, and your shopping can be brought indoors without getting wet. The open sides and roof design means that you will still get natural light through to your drive and windows, so you do not have to work in the dark atmosphere of a garage.
Benefits Of Carports
Protects your car from harsh weather conditions
Prolongs the lifespan of your cars paintwork
Keeps the users of your car dry and protected
Keeps your shopping and other items dry when transporting them to and from the car
Maximises your property's space
Contact SAS Shelters today for a Free Site Survey & No Obligation Quote - Get in Touch
Car Ports
Why Choose SAS Cantilever Carports
We are a family run business that specialises in designing, manufacturing and installing all of our products ourselves.
With 50 years of experience and expertise in manufacturing and steel fabrication, we can deliver the perfect cantilever or lean-to carport for to meet your specific needs. Our cantilever carports are all custom-built and our carports are all constructed to meet your specific requirements.
All of our carports are designed and manufactured in the UK, and we offer a free site survey to assess your needs and the space available at your home. Our quality workmanship coupled with only the finest materials means that your carport will withstand harsh weather conditions for years to come, protecting both you and your pride and joy. With a choice of designs and speedy construction, a carport is a quick and easy alternative to a garage, requires less space and offers better ventilation.
We offer a professional and friendly service, and we work hard to deliver the very best carport tailored to your exact requirements.
Our Service Includes
Free site inspection and survey
A detailed consultation on the best solution for your premises and the best materials to use
Full design drawings and artist impression of how your carport will look
Full installation with the minimum amount of fuss or disruption
Can't find the perfect carport? We offer a made to measure design service - Get in Touch
Cantilever Carports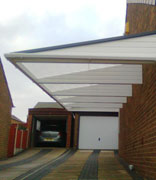 Our cantilever carports have a maximum projection of 3.5 metres. They are open-sided structures that are fixed to a supporting wall.
Their design means that they do not require permanent posts or further ground works, so there are no obstacles on the driveway or path for you or your neighbours to work around. If the cantilever carport is fitted to a bungalow, it will be installed using brackets to spread the load over the supporting wall.
The main benefit of a cantilever carport is its neat and compact design. This makes it an ideal choice for restricted spaces.
Lean-To Carports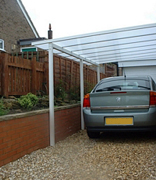 Our lean-to carports attach to a wall of your property whilst also using additional structural legs.
This will maximise the strength of your carport in the event of bad weather conditions. This means it can stand up to the pressures of heavy layers of snow or strong winds, and you can rest assured that your car will be safe and protected underneath. A lean-to carport can often be a better choice for a bungalow, as the posts can support more of the load.
A lean-to carport is a sturdy and reliable option to protect your car from the weather. 
Useful Information
Contact SAS Shelters today for a Free Site Survey & No Obligation Quote - Get in Touch