Litter Bins and Recycling Bins
Litter bins are a common sight in nearly every place that we visit proving that they are something no school, park, recreation ground or commercial business can be without.
Our range of litter and recycling bins come in a variety of colours and materials meaning that they will fit in with any environment. Our bins are made from polyethylene body shells and galvanised steel liners, making them durable and practical, as well as hygienic and easy to clean. We offer the option to include a lock and key to prevent vandalism, or there are key-free designs with fold down doors. Our litter bins are environmentally friendly as they are all made from recyclable plastic, and we have general waste and recycling options which include labels to state which recyclable material can be disposed of.
Our range of designs have been created to consider all types of premises and their necessary recycling requirements. Whilst our Provincial bin offers and easy empty pivot, we also have a drink can style with a ring-pull lid for young environments such as schools and youth clubs. We cater for all spaces, with twin bins for joint waste and recycling options as well as midi and micro bins for smaller areas.
Benefits Of Litter Bins and Recycling Bins
Keeps areas and businesses clean and tidy
Twin bins help to promote and encourage recycling
Lockable litter bins prevent vandalism
A litter-free area discourages vermin. Clean areas enhance the space and encourage visitors
Contact SAS Shelters today for a Free Site Survey & No Obligation Quote - Get in Touch
Bins
Why Choose SAS Litter and Recycling Bins?
We offer a full and bespoke service to all of our customers, no matter how big or small. We offer litter and recycling bins that are designed to suit any location and application.
Our 50 years of experience in manufacturing and steel fabrication means that we can offer top quality workmanship on all of our products.
Our litter bins are functional, tough and durable, so they will cater for any need. We offer both traditional and contemporary designs that blend in with any environment to ensure that they are unobtrusive but still useful. We design, manufacture and install all of our products in the UK to guarantee that our customers get exactly what they need.
Our Service Includes
Free site inspection and survey
No Obligation Quotation
A detailed consultation on the best solution for your premises and the best materials to use
Full installation with the minimum amount of fuss or disruption
Require a custom solution? We offer a made to measure design service - Get in Touch
Do I have a Duty To Provide Bins In Schools?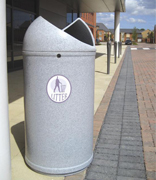 Litter has become an increasing problem in all walks of life, and schools are no exception. With a large concentration of young people, there are considerable amounts of food, wrappers and cans that need to be disposed of, and without sufficient litter and recycling bins these can often finish up in places they are not supposed to be.
Currently, all state-funded schools have a responsibility to make sure that their grounds are kept free of litter. Schools are required to carry out 'cleansing duties' which ensure that there is a consistent and appropriate management of an area to keep it clean. The best way to make certain that this is the case is to provide an adequate number of litter bins across your site for pupils, staff and visitors to use.
Littering is not only a nuisance, it is also illegal according to the Environmental Protection Act of 1990. It is therefore possible for private individuals to make complaints and then even take schools to court for having litter in its grounds, which can lead to hefty fines of up to £2,500. Local authorities can also issue Litter Abatement Notices which can result in fines if sufficient action is not taken. By including ample numbers of litter and recycling bins throughout your site you can help to keep to your duties of maintaining a clean and tidy school as well as encouraging your students to take responsibility for their own environment.
Useful Information
Contact SAS Shelters today for a Free Site Survey & No Obligation Quote - Get in Touch