Sail Shades and Sun Canopies
A sail shade is a beautiful shade made from fabric which is stretched across an area. It protects the users beneath from wind and rain, and is also excellent at blocking harmful UV rays.
These stunning sun canopies are ideal for use in schools, playgrounds, parks and domestic gardens. Sail shades come in a variety of shapes and sizes and are easily mountable in a number of different positions. This makes them ideal for any location.
The flexible design of our sun canopies means they can offer shade and sun protection in even the hardest to reach areas. The fabric used can either be a waterproof PVC or a woven mesh which has an excellent shade factor of 92% with minimal maintenance making them perfect for protecting children in school playgrounds, sand pits and play areas.
The fabric is supported by a durable frame made from either wood or metal. The sail shade uses the frames tension to create a shade that is angled in a way that can block out the elements. The shades come in a variety of colours and styles to make them perfect for any environments.  
Benefits Of Sail Shades
Offers a shade factor of 92% to protect from UV rays
Protects users from wind and rain
Inclusion in schools is an appealing factor to parents
Stylish and elegant
Keeps users cool in hot weather
Contact SAS Shelters today for a Free Site Survey & No Obligation Quote - Get in Touch
Sail Shades
Why SAS Shelters Sail Shades?
Our sail shades are beautifully made and are available in a wide selection of colours and styles. We offer a choice of fabrics to make sure the shade is best suited for your requirements.
We custom make each of our shades to suit your specific needs in order to provide you with a visually stunning and practical solution for your park, garden or play area.
We are a family run business and we strive to offer you a complete bespoke service. We offer a free on-site survey before designing, manufacturing and installing your sun canopy to your exact requirements. We have 50 years of experience and expertise in the manufacturing industry and steel fabrication, meaning that we can deliver a top quality product for your school, park or home.
All of our sail shades are manufactured in the UK, as they are all produced in-house. Our products are backed by years of industry knowledge, understanding and expertise, allowing us to provide an efficient and satisfying service, as well as a sun canopy that is the perfect fit for its intended purpose.
Our Service Includes
Free site inspection and survey
A detailed consultation on the best solution for your school and the best materials to use
Full design drawings and artist impression of how it will look in your school
Assistance with the planning process and all required documents submitted to the planning office
Full installation with the minimum amount of fuss or disruption
Can't find the perfect sail shade? We offer a made to measure design service - Get In Touch
What To Consider When Choosing a Sail Shade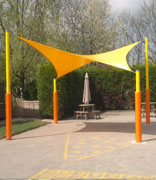 If you are looking to install a beautiful sail shade, then you need to consider its use and location before you invest.
As sail shades do not need planning permission and are not subject to building regulations, they can be a simple and uncomplicated addition to your premises.
These shades are far less restricted than other structures, which means they can be installed just about anywhere, even in hard to reach areas.
However, this does mean that they are not built to withstand heavy snow or wind. You will also need to consider how the shade will be used; is it to be used as a sun canopy or a shelter from adverse weather? This will influence the choice of fabric that will make up your sail shade.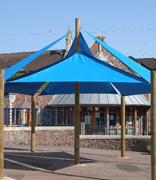 Your sail shade will need firm anchorage points for each corner. The fixings will then connect the anchorage points to the shade and create tension in the fabric. The site of the sail shade is also an important factor, as exposed areas subject to strong winds will be better suited to smaller areas of fabric.
Before installing a sail shade or sun canopy, you will also need to look at the surrounding area for any hazards or obstacles such as cables and water pipesthat may be below the shade. You will also need to think about the direction of the sun, so that the sun canopy can be angled correctly to offer the best possible sun protection.
Our range of styles and colours means that you can create a sail shade that is best suited for your environment. This means that children's areas and playgrounds can enjoy a range of colours, whilst commercial premises can opt to incorporate their corporate colours. The range of styles available means you can choose a design and angle that creates interesting shapes, making your sail shade a stylish and attractive addition to your premises, as well as a functioning one.
Sun Safety Advice
It is vital that we know how to protect the children we look after from the sun. When a child is sent to school or nursery it's down to the staff to keep the children in their care safe from harm.
Useful Information
Contact SAS Shelters today for a Free Site Survey & No Obligation Quote - Get in Touch