Cycle Shelters and Cycle Storage Solutions
A cycle shelter is a welcome addition to any school, park, recreation ground or commercial premises.
It provides cyclists with somewhere safe and secure to leave their bikes and encourages them to cycle more, therefore reducing traffic and pollution and promoting the health benefits of exercise.
Our bike shelters are available in a variety of colours and finishes and are made from a range of materials that offer all weather protection. We offer galvanised finishes or zinc primer undercoats as well as wire mesh, Perspex or polycarbonate panels and even have the option of a wooden shelter.
Our cycle storage can include built-in racks suitable for adult or junior bikes as well as scooter storage. Some designs include sliding or hinged doors and can be combined with buggy storage, whilst we also offer mini cycle storage for those who have limited space. With lean-to, wall-mounted, cantilever or free standing options available, we offer durable cycle shelters that are suitable for any space or environment.
The Benefits Of Cycle Shelters
Protects bikes from all weathers
Encourages staff, pupils, visitors and customers to cycle
Saves on parking spaces
Reduces car emissions and traffic
Bikes are kept safe giving their owners peace of mind
Contact SAS Shelters today for a Free Site Survey & No Obligation Quote - Get in Touch
Cycle Shelters
Why Choose SAS Cycle Shelters?
We use our 50 years of experience and expertise in manufacturing and steel fabrication to create bespoke cycle shelters that are perfect for your school, park or business.
All of our bike shelters are designed to meet your specific requirements and budget. Our shelters will be designed and manufactured just for you and will also be fully installed complete with groundworks.
Our shelters are strong and durable so they can withstand adverse weather conditions as well as knocks and bumps from bikes, buggies and scooters. We also offer budget cycle storage options which are made using lighter and thinner materials.
Our family run business offers you a complete and personal service with a vast array of options and expertise. Our cycle shelters also come with a range of essential accessories such as dusk to dawn lighting and lockers for helmets and waterproofs.
Our Service Includes
Free site inspection and survey
A detailed consultation on the best solution for your premises and the best materials to use
Free No Obligation Quotation
Full design drawings of how the finished product will look
Full installation with the minimum amount of fuss or disruption
Can't find the perfect cycle shelter? We offer a made to measure design service - Get In Touch
Our range of Cycle Shelter Options
Traditional Cycle Shelter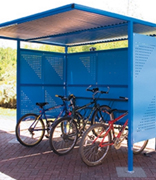 Our Traditional Cycle Shelter is made from a simple steel frame which includes a flat roof to offer protection from all weather conditions.
It is available in a range of colours and finishes to suit all budgets.
Wooden Cycle Shelter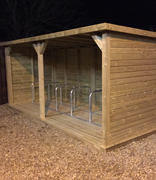 Our Wooden Cycle Shelter offers a more traditional feel and is made from a simple design with a flat roof.
It has a solid back and sides to make it strong and allow it to blend into the environment. It is available with steel hoops to allow the cyclist to secure their bike with a padlock and chain.
Midi Cycle Shelter
Our Midi Cycle Shelter is fully welded and includes a heavy gauge steel box section.
It can be manufactured to any length and fitted with a different option of cycle racks to accommodate junior or adult bikes.
Cycle Compound
Our Cycle Compounds come in any size and a variety of colours and finishes.
They are made from a rugged tubular construction with Perspex side panels and the roof helps to filter out UV light thanks to the twin wall polycarbonate covering. A galvanised finish or zinc primer undercoat is available for extra weather protection.
Why Install Cycle Shelters In Schools?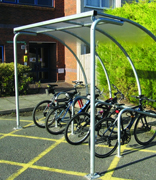 Cycle shelters are a fantastic investment for any school as they are of benefit to both staff and pupils.
The school run makes up a large amount of rush hour traffic which can be greatly reduced by encouraging more pupils to cycle to school. Less cars coming to school also means less pressure on limited parking spaces in and around the school.
By promoting active travel, schools can also encourage exercise and a healthier lifestyle for all.
The inclusion of bike shelters in schools helps to publicise cycling and makes cyclists themselves feel valued by giving them their own facilities.
The installation of cycle storage may not be as costly as you think, with funding available from the Lottery, Extended Schools budgets, local authorities and business sponsors.
Do I Need Planning Permission?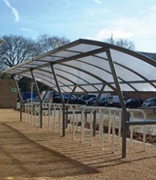 When looking at installing a cycle shelter on your premises, you need to consider whether planning permission will be needed.
In some cases planning permission is not necessary as it is only required if your covered storage is within 20 metres of the school boundary, if it is visible from the public highway or if it causes the school to exceed its permissible development limits.
This means that installing a bike shelter can be a simple and uncomplicated process.
Your local authority will advise you on whether permission for covered or uncovered storage is required. They can also help you to understand what type of application you will need to make.
Some local authorities may charge a small fee for any pre-applications.
Cycle To Work Scheme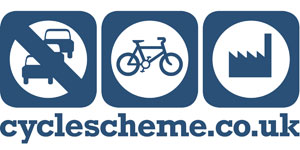 Installing cycle storage is one way to encourage your staff to cycle, but now you can also use the Cycle To Work Scheme to get employees active.
Useful Information
Contact SAS Shelters today for a Free Site Survey & No Obligation Quote - Get in Touch