Security Posts and Parking Bollards
Parking bollards and security posts can be added to any car park, commercial premises, schools, business parks, hotels, banks and hospitals.
They not only mean that off-limit areas can be restricted, but also parking spaces can be reserved and vehicles can be secured. These bollards and posts also protect vulnerable buildings and shelters from vehicle damage as they are both strong and highly visible.
Our range includes stainless steel, galvanised and polyester powder coated, polyurethane and even rubber bollards. They complement our range of shelters and some can be painted in your required colours.
Our bollards are available as fixed or retractable posts, which retract fully into the ground when not in use. They can be fixed using a base plate or direct burial, and our range of designs includes mitre tops for a modern finish. Our illuminated bollards are popular for adding extra light and security on walkways and car parks.
Benefits Of Parking Bollards & Security Posts
Reserves and secures parking spaces
Protects areas at risk of damage
Reduces car theft
Restricts any off-limit areas
Bollards and posts are more visible than other restrictions
Contact SAS Shelters today for a Free Site Survey & No Obligation Quote - Get in Touch
Bollards & Posts
Why Choose SAS Bollards and Posts?
Choosing SAS for your parking bollards and security posts gives you the peace of mind of working with a family run business with over 50 years of experience in steel fabrication and manufacturing.
We offer full design and manufacturing service which includes full installation. Our decorative polyurethane bollards are cast in an engineering grade, heavy duty polymer to provide durability and longevity.
Our range of posts and bollards are available in many different designs and colours, ensuring there is something suitable for your premises. We offer a free site survey to assess your needs and provide you with the best possible product for your site.
Our Service Includes
Free site inspection and survey
A detailed consultation on the best solution for your premises and the best materials to use
Free No Obligation Quotation
Full design drawings and artist impression of how the finished product will look
Full installation with the minimum amount of fuss or disruption
Require a custom solution? We offer a made to measure design service - Get in Touch
Fixed Or Retractable?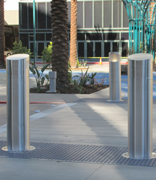 When installing parking bollards or security posts, you need to consider whether they should be fixed or retractable. A fixed bollard is a permanent solution for your parking and security needs.
These are ideal for restricting cars from any off-limit areas and keeping walkways free for pedestrians, making them safe and secure. These types of bollard are fixed into the ground with mounting bolts to keep them strong and rigid.
These are a very strong type of bollard that can offer greater levels of security. As these are permanent bollards, they should not be placed anywhere that an emergency vehicle may need to use.
Our retractable posts are drawn back fully into the ground to ensure that they do not present any trip hazards. It also means that they cannot cause damage to cars or become a hazard for cyclists.
They can be retracted at any time by authorised personnel to allow emergency vehicles to pass through, or to open up a parking space for a member of staff. Having retractable bollards also means that they can be removed to accommodate large events and pedestrian traffic should you wish to and therefore gives you and your site added flexibility, should it be required.
Useful Information
Contact SAS Shelters today for a Free Site Survey & No Obligation Quote - Get in Touch