Playground Shelters, Canopies and Shades
Our playground shades have been designed for use in schools, nurseries and colleges to help keep children protected from the elements.
We offer a variety of impressive shades, shelters and structures made from wood, steel and aluminium. Each shade has a variety of roof options from polycarbonate to a tensile fabric, meaning that our playground canopies can completely alter the look and feel of a courtyard or play area as well as transforming entrance ways.
Some of our designs incorporate heavy gauge steel which is galvanised and powder coated, whilst our Easy Gazebo offers a square, hexagonal or octagonal wooden frame which is fully treated and finished with stainless steel bolts.
These modern and dramatic design elements provide highly visible designer focal points for your outdoor spaces. Playground shelters offer an attractive centrepiece whilst offering students protection from the elements all year round.
Benefits Of Playground Shades
Protects children from harmful UV rays
Provides shelter from wind and rain
Encourages outdoor play in all weather
Adds colour and style to a play area
Provides a beautiful focal point
Contact SAS Shelters today for a Free Site Survey & No Obligation Quote - Get in Touch
Playground Shades
Why Choose SAS Playground Shelter, Canopies and Shades?
As part of our specialist bespoke design service, we offer a free site survey so that we can custom build a playground shelter that suits the style and decor of your school playground or canopy.
Our vast experience in the manufacturing industry means that we can combine top quality workmanship and fantastic materials to create something that is both stylish and practical.
With 50 years of manufacturing and steel fabrication experience, this family run business can offer you a complete service that includes the design, manufacture and installation of your own unique playground canopy. Children, staff and visitors alike will love it, and can enjoy all the benefits of being outdoors no matter what the weather holds.
Our Service Includes
Free site inspection and survey
A detailed consultation on the best solution for your premises and the best materials to use
Full design drawings and artist impression of how it will look in your school
Assistance with the planning process and all required documents submitted to the planning office
Full installation with the minimum amount of fuss or disruption
Can't find the perfect shade? We offer a made to measure design service - Get In Touch
Sun Safety At School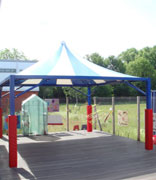 It is vital that we all know how to protect our skin from the sun, but it is even more important that we know how to protect the children we look after. UV rays can be incredibly damaging to a child's skin and so care givers must understand the importance of sun protection, adequate shade and the education of children and parents.
There are various ways that children can be protected from the sun in any location, and there is even a Sun Safe Schools initiative to help schools offer the best possible care for their pupils. When children are outside and exposed to the sun's rays they should be adequately protected with sunscreen and sun hats. Sunscreen should have a high SPF and be re-applied at regular intervals to make sure it is offering maximum protection. The school or nursery has a responsibility to provide adequate shaded areas like playground shades, canopies and shelters for children when they are outdoors, particularly over playgrounds and sand pits.
The school should take the opportunity to educate the children about their own sun safety through structured assemblies and lessons. It is important to engage with children in a fun manner to explain the dangers of the sun and how they can protect themselves.
The Sun Safe Schools organisation has been developed in conjunction with skin cancer charity Skin and require the school to ensure the four steps of sunscreen, sun hats and role models, shade, introductory assembly plans and lesson plans and activity sheets are completed as part of their duty of care to protect children from the damaging effects of UV rays during school hours.
Funding for Playground Shades and other Equipment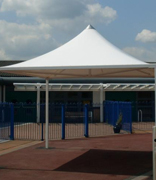 Adding a beautiful yet essential feature to your site may seem an expensive business but you can rest assured that there are funding options available for these sorts of playground improvements. Whether you represent an educational body, a local authority or a not-for-profit organisation, you could be eligible for funding for playground shelters, canopies or shades.
Before you embark on any playground funding applications, it is worth remembering that each funding organisation is different and therefore their preferences and criteria may vary. It is worth taking the time to study each option to make sure that you apply to the one that best fits your circumstances.
Playground funding gives children of all ages essential access to outdoor facilities and outdoor learning opportunities throughout the year. Funding for your playground shade means that children can enjoy all of this whilst being kept dry, safe and protected. There are a number of sources of playground funding across the UK, including Statutory or government funding, lottery funding and even funding from charitable trusts. Each one caters for different types of facilities, so speak to a variety of organisations to find the best one for you.
Useful Information
Contact SAS Shelters today for a Free Site Survey & No Obligation Quote - Get in Touch