Security Fencing - Bow Top, Vertical Bar and Palisade Fencing
Security fencing comes in many different types, making it suitable for commercial premises, business parks and schools.
We offer a full range of security and standard fencing including bow top, vertical bar and palisade fencing. Our fencing is strong, long-lasting and durable and offers maximum security at all times.
We have a range of tops available that include blunt, single point, triple point, rounded or rounded and notched. This means that spikes can be added to fencing that is used for security applications whilst the blunt tops can be used in parks and other family areas.
High security fencing is not only effective at keeping people out it also acts as a deterrent, stopping them trying in the first place. Our curved steel security fencing is designed to stop it being climbed by intruders, offering you additional security. Our range of steel security fencing options are available in a variety of styles and colours
Benefits Of Security Fencing
Caters for varying levels of risk
Your premises and belongings are protected
An extra level of security gives you peace of mind
Security fencing is vandal resistant
Can still be attractive whilst serving their purpose
Contact SAS Shelters today for a Free Site Survey & No Obligation Quote - Get in Touch
Why Choose SAS Security Fencing
Choosing the right security fencing can be as daunting as the fencing itself. We are here to help by offering a free site survey to assess your needs and recommend the products that are best for you. Our free no obligation quote applies to whatever fencing design you choose.
We have 50 years of experience in steel fabrication and manufacturing and all of our security fencing is produced in the UK.
Our vast array of expertise means that your fencing will be made with the best quality workmanship to ensure that the end product is robust and reliable.
We offer a full range of security and standard fencing as well as security gates, and all of them are designed, manufactured and installed by us.
Our Service Includes
Free site inspection and survey
A detailed consultation on the best solution for your premises and the best materials to use
Full design drawings and artist impression of how it will look
Assistance with the planning process and all required documents submitted to the planning office
Full installation with the minimum amount of fuss or disruption
Require a custom solution? We offer a made to measure design service - Get in Touch
A Variety of Fencing Options Available
Automatic or Manually Operated Security Gates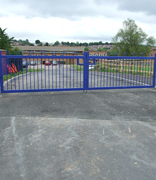 Our security gates can be either automatic or manually operated depending on your needs. Our gates are made up of heavy box profile sections which allows them to withstand everyday use.
These security gates complement any secure perimeter, meaning that you have safe and secure access points around your premises.
Choosing the right gate is dependent on the site itself and how it is likely to be used. In the case of manually operated gates, if the site is particularly exposed and is therefore subject to high winds then the maximum leaf size and the choice of cladding needs careful consideration.
Our automatically operated gates can be either swing or sliding gates depending on the size and the site of the gate itself. You also need to consider who will be operating the gate, and the frequency that it will be used.
Palisade Fencing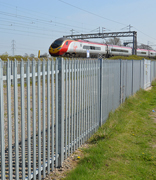 Palisade fencing provides a formidable perimeter for any premises.
Palisade fencing is a robust form of permanent site security which is difficult to climb and is made up of two horizontal rails with steel pales in either a W or D shape.
It comes with either spiked or rounded tops depending on the level of risk.
Bow Top Fencing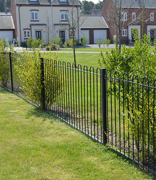 Bow top fencing is most commonly chosen for parks and play areas and is made up of support posts and railings with rounded tops.
This type of fencing offers strength, rigidity and durability and is useful for defining boundaries. Its lower height makes it ideal for areas with children.
Vertical Bar Fencing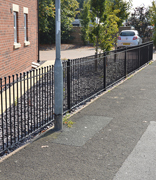 Vertical bar fencing provides a solid boundary fence and consists of hollow section steel joists with angled cleats and security fixings.
These simple vertical bars can have blunt, spiked or domed tops.
Paramesh Fencing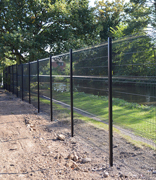 For complete coverage, paramesh fencing is made up of wire mesh panels surrounded by galvanised horizontal and vertical rods.
These are ideally suited for boundary and general security applications.
Useful Information
Contact SAS Shelters today for a Free Site Survey & No Obligation Quote - Get in Touch