Cycle & Bike Lockers - Ensuring Maximum Security
Cycle lockers offer maximum security for cyclists parking their bikes in car parks, airports, train stations, commercial premises and shopping centres.
They offer extra levels of security above and beyond that of cycle shelters and racks, meaning that cyclists can enjoy that extra bit of peace of mind knowing that their belongings are safe at all times. Cycle lockers are fully enclosed structures that can be constructed in a single or double design and come with flat or pitched roofs.
Our bike lockers also come with internal locking mechanisms and wheel troughs to add to their levels of security.
We offer solid or mesh options for our cycle lockers, and all are made with galvanised steel frames to ensure that they are robust and durable.
If space is at a premium, we can also provide tapered lockers that can also be placed together. If required, some of our designs can be painted to fit in with your environment. Our vertical option is another great way to save space.
Benefits Of Cycle Lockers
Keeps bikes secure and protected
Offers extra peace of mind for cyclists
Gives individual or multiple protection
Lockers have an unobtrusive design
Ideal for long-term storage requirements, for example, during holidays
Contact SAS Shelters today for a Free Site Survey & No Obligation Quote - Get in Touch
Cycle Lockers
Why Choose SAS Cycle Lockers?
Our family run business designs and manufactures all of our products in the UK using top quality workmanship and the very best materials.
We offer a complete service from design to installation to ensure that you get the cycle locker that meets all of your requirements. Our vast array of expertise makes us experts in our field, and with 50 years of experience in steel fabrication and manufacturing we are the perfect choice for your business.
We can design bike lockers to your exact specifications, meaning we can construct something that fits whatever space you have available.
We can also produce detailed drawings and visuals before manufacture to make sure you will be completely happy with the end result. Our bespoke service ensures that you can take delivery of a cycle locker that is both practical and stylish and has been tailored to your needs.
Our Service Includes
Free site inspection and survey
A detailed consultation on the best solution for your premises and the best materials to use
Free No Obligation Quotation
Full design drawings of how the finished product will look
Full installation with the minimum amount of fuss or disruption
Can't find the perfect cycle locker? We offer a made to measure design service - Get In Touch
Our Range of Cycle Storage Solutions at SAS Shelters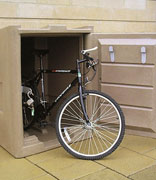 Here at SAS, we not only offer a variety of cycle lockers, we can also provide a wide range of cycle shelters, racks and stands. This means there is a cycle storage solution to suit your specific requirements.
Our cycle shelters come in a range of sizes and a variety of colours and finishes. They are available with the options of built-in bike racks and even scooter racks to cater best for your staff or visitors.
We can also include sliding gates on some of our designs to give your cycle shelter added security, and the inclusion of special lockers will help to keep helmets and waterproofs safe. To maximise your storage appeal, some designs can also be combined with buggy storage to ensure there is something to suit every need.
Our cycle stands are made from stainless steel or galvanised steel which is powder coated to make them as durable as possible. These fantastic stands come in a range of colours, and you can incorporate your company branding by adding your own logo and corporate colours.
Our cycle racks range includes single and double-sided racks, semi-vertical racks and wall-mounted cycle holders to solve any cycle storage issues you may be faced with.
Useful Information
Contact SAS Shelters today for a Free Site Survey & No Obligation Quote - Get in Touch