Commercial and Shop Awnings
Ideal for shops, pubs, restaurants, schools, nurseries, care homes and anywhere offering outdoor dining, our commercial awnings adorn the facades and gardens of leisure establishments and businesses.
They can sit above windows to prevent glare from the sun bothering customers inside, or they extend across gardens and patios to create pleasant outdoor seating areas. By increasing your seating capacity, you can also increase your profits.
Our commercial and shop awnings not only protect your customers or pupils from rain and UV rays, it also makes a striking design statement which can incorporate your company colours and logo.
We offer wall mounted or free standing options, and each has the choice of remote control or auto operation. Lighting and heating systems are also available as well as a whole host of water resistant fabrics. Our Pod design even includes the option of side screens for all round shelter.
Benefits Of Commercial Awnings
Commercial awnings can provide excellent advertising opportunities
They protect customers from rain and UV rays
Sheltered spaces can increase your seating capacity
Awnings over windows can prevent glare into your establishment
Well designed awnings can improve the facade of your business
Contact SAS Shelters today for a Free Site Survey & No Obligation Quote - Get in Touch
Commercial Awnings
Why Choose SAS Commercial Awnings?
We offer a complete service for your commercial awnings including design, manufacture and installation.
SAS is a brand that is synonymous with quality, reliability, efficiency and great value, and so our 50 years of experience and expertise are sure to deliver you a fantastic product. All of our commercial and shop awnings come complete with a five year guarantee to give you that extra peace of mind and all are manufactured in the UK.
We will work with you to create an awning that is attractive, functional and improves the facade of your building whilst protecting those beneath it.
Our vast experience in steel fabrication and manufacturing makes us the perfect choice to design and construct your awning. As a family run business we can offer you a personal service and top quality workmanship.
Our Service Includes
Free site inspection and survey
A detailed consultation on the best solution for your premises and the best materials to use
Artist impression of how your shop canopy will look
Full design mock up including your company logo and corporate colours
Full installation with the minimum amount of fuss or disruption
Can't find the perfect awning? We offer a made to measure design service - Get in Touch
Our Range of Commercial Awnings
Motorised / Retractable Awnings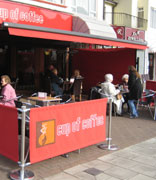 Our motorised awnings are concealed in a complete cast aluminium casing when they are retracted, making them neat, tidy and discreet.
The fabric of the awning is self cleaning for easy maintenance.
Twin (Haitian) Awnings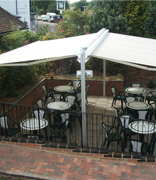 Our twin awnings are a combination of two awnings which are fitted back-to-back on a free standing or concreted frame.
This means that the awning does not have to be fitted to a building and gives greater coverage over dining or seating areas.
Window Awnings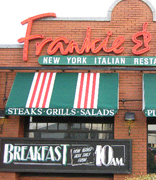 Window awnings are ideal for restaurants as they help to cut out some of the glaring sunlight that can dazzle diners.
The inclusion of logos and corporate colours can also help with advertising your business.
Framed Awnings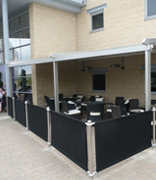 A framed awning is ideal when the projection is more than 3.5 metres.
This makes it perfect for school play areas, outdoor dining areas or smoking areas. The awning is set into an aluminium frame which can be retracted via an integral motor.
What To Consider when choosing a commercial awning?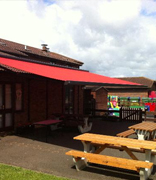 When choosing a commercial awning for your premises, there are a few factors that you need to consider, including its purpose, the fabric you need, the size and the operating system.
Awnings are fantastic at providing shade and sun protection for play areas, relaxation spots and outdoor dining. Those who are vulnerable such as children or the elderly can enjoy the benefits of being outdoors whilst being protected from damaging UV rays that could cause sunburn or heat stroke.
Whilst a commercial awning can protect users from light rain showers, it should remain closed during particularly poor weather. An awning can be particularly useful at providing temporary cover, when a permanent structure such as a canopy or shelter could be an obstruction. This is particularly relevant for schools who may want to close the awning to make room for sporting activities.
The fabric for your awning needs to be both durable and attractive. The inclusion of company colours and logos can help it to blend in with your premises perfectly. If you do not have corporate considerations then it is worth remembering that dark colours are easier to maintain as they appear cleaner for longer, whilst lighter colours can keep the area looking brighter.
Different styles of awnings have different widths and projections, so this will need to be taken into account when looking at the area to be covered. If necessary, the size can be increased by installing two piece systems to create a larger covering area.
The beauty of commercial and shop awnings is that they can be retracted when needed, and there are different methods of doing so. The traditional hand crank is easy to use and allows for quicker installation, as an electricity supply is not required. However, the crank can be reached by everyone in the area and is clearly visible, so may not be suitable for areas with young children.
An electric motor makes retraction incredibly easy and the remote can be hidden away and used from indoors. Whilst it can make retraction quicker, it does mean that it can be affected by power cuts and the required electricity supply lengthens the installation time and limits where the awning can be fitted.
Pubs and Bars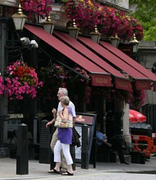 Create a space customers will love by choosing to have commercial awnings outside your pub or bar, perfect for the summertime and great for keeping customers protected from the elements.
Restaurants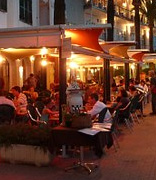 Whether you host outdoor events or entertainment or want to provide more space for customers to dine, commercial awnings will provide cover and create an attractive space for outdoor dining.
Schools and Nurseries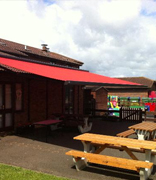 keep children protected from sun and rain with school awnings and playground canopies that help to create sheltered areas and additional spaces for outdoor learning.
Shops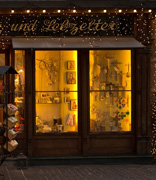 Create an attractive store-front with branded commercial awnings that will not only protect your store from the heat, rain and harsh winds but increase visibility and customer engagement.
Useful Information
Contact SAS Shelters today for a Free Site Survey & No Obligation Quote - Get in Touch