Cycle Stands and Cycle Racks
Cycle stands and racks are used in commercial and recreational premises as a way of keeping bikes safe and secure whilst parked.
They are ideal for schools, hospitals, car parks, business parks, shopping centres, commercial premises and parks. They are also popular at colleges, universities, railways stations, cycle parks, high streets, offices and flats.
They allow the owner to lock up their bike safely, and by standing them properly, trips and damage can also be eliminated. The user can secure their bike using their own lock in a convenient and safe place.
Our cycle racks and stands are available in a number of different finishes, including stainless steel, galvanised steel and can be powder coated in a variety of colours. There are many bike stand and rack options from single and double sided cycle racks to semi vertical racks and wall mounted cycle holders.
The single and double sided racks are particularly ideal if space is at a premium, due to their centres being only 300mm, which means more bikes can easily be stored. The semi vertical rack can be fitted against a wall and so uses a smaller amount of floor space. We can deliver a cycle stand that fits any budget or space.
Benefits Of Cycle Stands
Keeps bikes safe and secure
Reduces trip hazards
Encourages more staff or visitors to cycle and enjoy the health benefits
Makes your premises more appealing to cyclists
Reduces traffic and parking issues around your premises
Contact SAS Shelters today for a Free Site Survey & No Obligation Quote - Get in Touch
Cycle Stands
Why SAS Shelters Cycle Stands?
Cycle stands are popular in any residential, commercial and recreational areas, and our cycle stands and racks fit any space and budget.
We manufacture all of our cycle stands in-house, and we design, produce and install each one, ourselves. We can offer a free site survey to ensure that you get a cycle rack that is perfect for you and the space you have available.
We are a family run business with 50 years of experience and expertise in manufacturing and steel fabrication. All of our products are made in the UK to the highest possible standards.
Our top quality workmanship and materials ensure that you will receive the ideal product for you by delivering a complete service from design to installation
Our Service Includes
Free site inspection and survey
A detailed consultation on the best solution for your premises and the best materials to use
Free No Obligation Quotation
Full design drawings of how the finished product will look
Full installation with the minimum amount of fuss or disruption
Can't find the perfect cycle stand? We offer a made to measure design service - Get In Touch
Why Should You Consider Installing Cycle Parking Solutions?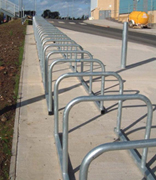 Providing adequate cycle parking on your premises is becoming increasingly important as more people turn to cycling as a form of transport.
By providing cycle racks and stands you will encourage staff, visitors and customers to use bikes which will reduce congestion, ease parking and lower pollution. Cycling is also proven to have a number of different health benefits for those doing the pedalling.
Providing a safe and secure place for people to store their bike encourages people to use their bikes and makes your facilities more appealing.
Cycling is a cost-effective form of transport which can reduce congestion at the busiest times. This is particularly noticeable during the school run, and the greater number of children who cycle, the less cars there are around at the time.
By providing cycle parking in public spaces and recreational grounds you will also encourage people to use those spaces more.
Do I Need a Cycle Stand or a Cycle Rack?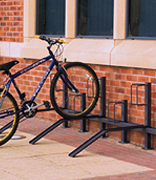 If you own or run premises that encourage a number of people to visit you, then installing cycle parking is as much a gesture of help and convenience as providing car parking spaces.
If your premises are near any of the extensive national cycle routes, then you are more likely to have cyclists visiting your school or business.
If space is at a premium, then a cycle rack is ideal as they tend to be free standing for cyclists to lean their bikes up against.
Cycle stands need to be positioned at least 1metre apart to avoid handlebars and cables becoming tangled, however, they do allow more space for adult bikes.
Bike stands are more durable and secure, but are only suitable for hard surfaces such as tarmac, block paving or slabs.
Useful Information
Contact SAS Shelters today for a Free Site Survey & No Obligation Quote - Get in Touch