Case Studies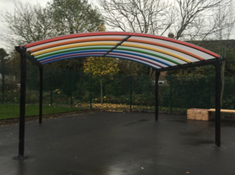 Case Study
We are proud to launch a brand new canopy design, perfect for use in nurseries and primary schools. Our new rainbow canopy is a curved canopy with decorative bars at the top of the structure, painted to resemble the a rainbow.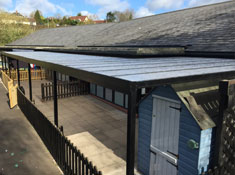 Case Study
We have recently completed a new school canopy installation at the Goodrich Church of England in Herefordshire, which was custom designed aluminium canopy to suit the specific requirements of Goodrich Primary School.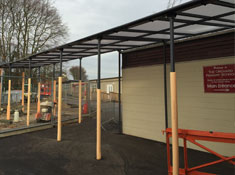 Case Study
SAS Shelters have designed, built and installed a custom 30 metre walkway, an 8 metre midi cycle shelter and three double-sided scooter racks for Orchard School in Watford, in collaboration with Balfour Beatty.
Why Choose SAS ?
Fence maintenance
Slabs and Groundworks
General Building Maintenance
Grass and Hedge Cutting
Artificial Grass
Soft Play Area Flooring
Contact SAS Shelters today for a Free Site Survey & No Obligation Quote - Get In Touch