Balustrades and Stainless Steel Railings
Simply put, a balustrade is a railing or barrier that is designed to prevent people from falling over the edge of staircases, balconies or landings.
Whilst they are an important safety feature in both domestic and public settings, they can also be attractive and modern, and our balustrades and stainless steel railings come in a range of beautiful designs that can incorporate aluminum, wood, glass or stainless steel. Our balustrades can be used indoors or outdoors and remain versatile, appealing and long-lasting. They are suitable for domestic use as well as schools, workplaces, airports, stadiums and commercial premises. We offer handrails made from wood or stainless steel as well as a variety of practical and ergonomically designed tools and accessories. We also have a selection of panels, connectors, infills and bases that can be combined to create the perfect effect for your space.
Included in our range are aluminium posts which have been powder coated with scratch resistant anthracite grey paint, as well as the options of polished or brushed stainless steel. For the perfect finishing touch, some of our designs can also include LED spotlights or linear lights.
Benefits Of Balustrades
Offers safety and support
Suitable for stairs, balconies, atriums and walkways
Adds an attractive feature to your space
Glass panel options allow a continuous view
Balustrades help to direct the flow of people in public spaces
Contact SAS Shelters today for a Free Site Survey & No Obligation Quote - Get in Touch
Why Choose SAS Balustrades
At SAS we believe in putting the customer in control, which is why we offer a bespoke service tailored to meet your specific requirements.
We will work with you throughout the design, manufacture and installation process to create the balustrades or railings that best fit your space. With a variety of hand rails, cap rails, panels, connectors, bases, infills and posts you can create your very own design from a variety of premium materials.
With 50 years of experience in manufacturing and steel fabrication, we not only offer valuable expertise but also top quality workmanship. Our extensive range of options means that you can turn a simple safety feature into something really special.
Our Service Includes
Free site inspection and survey
No Obligation Quotation
A detailed consultation on the best solution for your premises and the best materials to use
Full design drawings and artist impression of how the finished product will look
Full installation with the minimum amount of fuss or disruption
Require a custom solution? We offer a made to measure design service - Get in Touch
Suitable For Indoor And Outdoor Use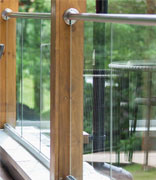 All of our balustrades and stainless steel railings have been designed to suit a variety of uses, making them suitable for installation indoors or outdoors. We offer baluster, wall and glass railings to give you a choice of finishes, allowing you to choose the one that best suits your surroundings.
Our baluster railings will give your stairway, balcony or atrium a wonderfully distinguished look. These fantastic designs are based on round or square forms and can be finished with wood or stainless steel. For an extra special touch, spotlights or linear lights can be added to produce a stunning effect. These have the options to adjust the brightness as well as a choice between warm, cold and coloured light.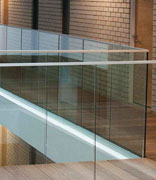 Glass railings will give your space the ultimate feel of transparency. The cleanly-designed handrails, cap rails and railing bases for fascia or top installation are available to create a stunning and uninterrupted view for every possible interior or exterior space. With a choice of stainless steel, wooden and brushed or polished handrails in rounded or square shapes you can create something modern and sophisticated. The option of transparent infills for these types of railings give a wonderful open and airy feel that help to open up an area and let plenty of light into the space.
For extra safety support, railings can be installed directly onto the wall. This can leave a space more open, and with a choice of fittings available there doesn't need to be a single screw in sight. These wall railings also have the option to add our fantastic LED lights, and our Ultra range is made from materials that are extra resistant to tea-staining and pitting, making them ideal for coping with swimming pool chemicals, or salt water in coastal areas.
Useful Information
Contact SAS Shelters today for a Free Site Survey & No Obligation Quote - Get in Touch