Patio and Garden Awnings for Domestic Use
A patio or garden awning is a delightful way for you to relax in the fresh air undisturbed by the ever-changing British weather.
If you want to eat outdoors, provide shade for children or simply create a more comfortable seating area, patio awnings will protect your family from both UV rays and sudden showers. If your garden is overlooked, it can also benefit from added privacy and seclusion. The splash of colour from your awning provides a stylish and practical addition to your home.
Domestic awnings are also a fabulous way to keep the inside of your home cool during the warmer summer months. They not only reduce glare but also protect your carpets and soft furnishings from fading whilst still maintaining your view of the garden.
Our garden awnings come in a range of shapes and sizes and include customisable options such as a range of fabric colours, the option of remote or fully automatic operation and under-awning heating and lighting systems.
Benefits Of Garden and Patio Awnings
Offers protections from the sun and UV rays
Allows you to enjoy your outdoor space even in the rain
Helps to keep rooms cool
Adds an attractive feature to your garden
Protects your soft furnishings from fading
Contact SAS Shelters today for a Free Site Survey & No Obligation Quote - Get in Touch
Domestic Awnings
Why Choose SAS Patio and Garden Awnings?
We are a family run business based in the UK, with 50 years of experience in steel fabrication and manufacturing.
We offer a bespoke and personal service that includes a no obligation, no hassle visit to your home to assess your needs. We can then help to design your awning before manufacturing and installing it ourselves.
Our expertise means that we can produce a stylish and practical product that is designed to suit your home and meet all of your requirements. We can advise you on the best operating systems and materials for your needs so that your family can enjoy your outdoor space all year round, whatever the weather.
Our Service Includes
Free site inspection and survey
A detailed consultation on the best solution for your premises and the best materials to use
Artist impression of how your shop canopy will look
Full design mock up including your company logo and corporate colours
Full installation with the minimum amount of fuss or disruption
Can't find the perfect awning? We offer a made to measure design service - Get in Touch
Types of Garden/Patio Awnings
Bahamas
This awning has a completely sealed unit made from cast aluminium and is built around an strong extruding aluminium back plate.
The Bahamas awning comes with a range of fabric designs.
Barbados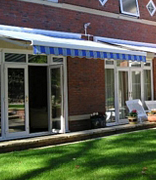 This is an open awning at the back of the cassette with a flush fitting, making it a more cost-effective option.
It can be up to 4.5 metres long with a 3 metre projection
Tortola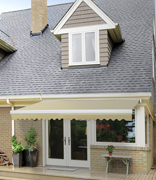 The Tortola awning has a full cassette design which is very hard wearing and comes with either motorised or manual operation.
This design is suitable for all types of applications, especially in limited space.
Custom Awnings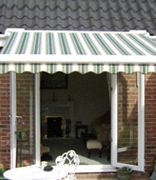 Our custom-built awnings are all made to measure. They come in a range of fabrics and colours and have a variety of options including automatic or manual operation.
Suitable In All Weather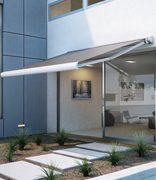 In the UK we can never rely on the weather to be consistent no matter what time of year it is. This is why a domestic awning can be a useful addition to every garden as it provides different levels of protection.
The fabric of our awnings are waterproof, meaning you won't be caught out by a sudden downpour. When the clouds part, you and your family can enjoy the shade of a patio awning, as it blocks out the harmful UV rays.
Our frames are strong and robust, which means they are built to withstand strong winds as well. A domestic awning from SAS gives you the freedom to enjoy your garden all year round.
Useful Information
Contact SAS Shelters today for a Free Site Survey & No Obligation Quote - Get in Touch