Ground Works, Foundations and Preparation Work
If you are building a new project then the first thing you will need is thorough ground works and preparation before you even lay your very first brick.
We offer ground works services for both domestic and commercial settings to make sure that your site is ready for your new venture.
Ground works refer to any sub-structural works that needs to be undertaken and they are the first stage of any construction project.
We can provide professional services for foundations, concrete base work, drainage, surfacing and slab and paving work.
We also offer the option to include artificial grass as part of the landscaping of your project, giving it the perfect finishing touch.
Benefits of Professional Groundworks
Ensures that the project has the correct foundations in place
Reduces the risk of problems later in the project
Wire meshing ensures that your concrete base won't crack over time
Decorative slab work can offer a unique look and a great finish
Astro turf offers a low maintenance alternative to natural grass
Contact SAS Shelters today for a Free Site Survey & No Obligation Quote - Get in Touch
Why Choose SAS Ground Works
If you are looking for a family run business that can offer you a personal service then look no further than SAS Shelters.
We can undertake all of your ground work and preparation needs for your new project and can offer you expert advice from our experienced and professional team. We will work with you to plan the best possible preparations for your construction, whether it is small or large.
Our projects are all bespoke, meaning we can create something that is tailored to your needs, including anything from concreting to the final landscaping.
We will put our vast expertise into practice to deliver a practical solution to any of your ground work needs.
Our Service Includes
Free site inspection and survey
A detailed consultation on the best solution for your premises and the best materials to use
Free No Obligation Quotation
Artist impression of any landscaping work
Full installation with the minimum amount of fuss or disruption
Do you wish to discuss your building project in more detail? - Get in Touch
Concrete Base Work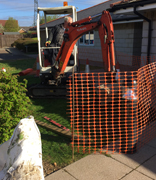 We can provide a concrete base for your construction. Whatever the size, we will supply and install all of the shuttering for the preparations before constructing your concrete base.
We will help you to choose the right type of concrete for your project based on the setting time, the use and any extremes that it might be subjected to.
We can incorporate all forms of reinforcement and finished surfaces and wire mesh can be integrated into the concrete to prevent cracking.
Slab Work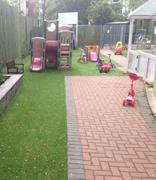 As part of your preparations and landscaping we can offer a range of slab and paving work.
These could be power floated internal floor slabs or brushed concrete external slabs.
Whatever your project, we can help you to select the paving that is best suited to your plans.
We can work with you to select the best materials and structures to ensure you have the correct foundations for your project.
Astro Turf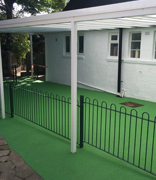 To add a superb and durable finish to your project you could consider adding a layer of artificial grass into your landscaping.
This is perfect for domestic use as well as for school and nursery play areas as it will not turn muddy under foot  and is long-lasting and neat without the need for constant upkeep.
There is a huge range of carpet specifications and a variety of natural colour options to help you to choose something that will blend in with your surroundings.
Useful Information
Contact SAS Shelters today for a Free Site Survey & No Obligation Quote - Get in Touch