Smoking Shelters and Smoking Canopies
Since the smoking ban came into force in 2007, smokers in commercial premises or workplaces have been forced to take their habit outside. Many businesses are now opting to provide smoking shelters both for their employees and customers.
All of our smoking shelters are built to comply with current smoking legislation and are ideal for commercial premises such as pubs, nightclubs, restaurants and other public venues, as well as any workplaces with smoking employees. All of our smoking canopies and shelters include the option to add heating and lighting to make them more appealing and comfortable.
We have a variety of shelters available including fully welded constructions, lean-to options and shelters with adjustable feet. We also have a range of budget options available in the form of smoking canopies which offer a cheaper alternative whilst still providing adequate protection and meeting the required legislation. These smoking canopies are ideal for areas of limited space and include a motor for retraction purposes.
A range of materials are available, with fully galvanised and powder coated frames, heavy gauge steel, Perspex sides, polycarbonate and perforated sheet steel options depending on the shelter.
Benefits Of Smoking Shelters
Offers smokers protection from bad weather
Provides a facility for employees, customers and visitors
Helps to keep your business in line with current legislation
Providing a designated smoking shelter helps to keep building entrances clear and tidy
The whereabouts of smoking staff are known in the event of a fire drill
Contact SAS Shelters today for a Free Site Survey & No Obligation Quote - Get in Touch
Smoking Shelters
Why Choose SAS Shelters Smoking Shelters?
We offer a custom-built service that means you can take delivery of the exact structure that you want. With 50 years of experience and expertise, we can design, manufacture and install your smoking shelter using the very best workmanship and materials.
Our made-to-measure designs ensure that you have a shelter or smoking canopy that perfectly fits any designated area. Our fully bespoke service ensures that your smoking shelter will fit in with any external decor. We offer a full range of options including wall-mounted or enclosure options as well as a choice of colours, sizes and styles. This means you can be sure that an SAS smoking shelter will suit any premises. We can even offer adjustable feet on our Premier Shelter to allow on-site positioning.
Our years of industry knowledge of manufacturing and steel fabrication means that we can provide a thorough and high quality service and construction. We are a family run business which strives to provide our customers with an excellent bespoke service for all of our customers.
Our Service Includes
Free site inspection and survey
A detailed consultation on the best solution for your premises and the best materials to use
Full design drawings and artist impression of how the finished product will look
Assistance with the planning process and all required documents submitted to the planning office
Full installation with the minimum amount of fuss or disruption
Can't find the perfect smoking shelter? We offer a made to measure design service - Get In Touch
Does My Premises Need A Smoking Shelter?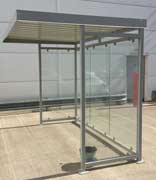 The smoking ban came into force in 2007, and means that any enclosed or substantially enclosed area in a commercial environment must now be smoke-free. This applies to permanent structures as well as temporary ones such as tents, gazebos and marquees.
The removal of indoor smoking has pushed smokers outdoors, often leaving them gathered around entrances and gates. There is no legal requirement to offer a smoking shelter, but it is seen as a gesture of goodwill to provide a smoking area that allows customers and employees to smoke whilst protected from the elements.
The addition of even a smoking canopy can help your business premises remain tidy and uncluttered. Smokers tend to gather near to an entrance, which can allow the smell to drift indoors and put off potential customers. A designated smoking shelter gives smokers somewhere to congregate that is suitable for your business. It offers customers and patrons a smoking option, keeping them in your premises for longer, and staff are also kept warm, safe and happy.
A smoking shelter or canopy must also meet current legislation, as more than 50% of the shelters sides must be permanently open. All of our smoking shelters meet the required legislation, making it easy for you to integrate one into your premises.
Useful Information
Contact SAS Shelters today for a Free Site Survey & No Obligation Quote - Get in Touch