Wooden Shelters and Wooden Gazebos
Our wooden shelters and gazebos are perfect for public and private premises alike. Whether it is for extending commercial seating, a warm outdoor play area, outdoor classroom, a shaded school eating area, outdoor entertaining or a wedding venue, these beautiful wooden shelters are suitable for any environment.
Our wooden gazebos and shelters are made from the highest quality European Redwood which is pressure treated to ensure protection for years to come. What is more, all of our wood is specially treated to meet children's playground grade and do not splinter over time, and all wood can be stained or painted.
Our wooden shelters can be offered in a variety of sizes and shapes, with roof coverings ranging from polycarbonate, thatch, tensile PVC, felt and wood, so there is something to suit every use. Our wooden gazebos can be square, hexagonal or octagonal and the smaller gazebo is perfect as a hot tub cover. Whether your priority is the safety and protection of young children or the comfort and entertainment of your customers, we have a wooden shelter or gazebo to meet your needs.
The Benefits Of Wooden Shelters
Keeps customers and children warm and dry all year round
Reduces the amount of sun that children are exposed to
Wooden shelters allow children to be outside even in inclement weather
Extends the amount of available seating for commercial businesses
Allows school children to work closer to nature
Contact SAS Shelters today for a Free Site Survey & No Obligation Quote - Get in Touch
Wooden Shelters
Why Choose SAS Shelters Wooden Shelters?
Here at SAS Shelters, we specialise in providing wooden shelters and gazebos that meet your needs. With 50 years of experience, we can offer you excellent workmanship and top quality materials, to ensure you get the best possible product.
We manufacture our wooden gazebos and shelters in-house, and offer a complete service right through to installation. Our years of industry knowledge and expertise will mean you get a shelter or gazebo that is perfect for its intended purpose, whether it is for educational or commercial use.
With a choice of modern or traditional styles, our custom-built wooden shelters and gazebos can suit any environment. We can work from architects drawings to provide you with exactly the product you are looking for. We offer a range of customisable options, including built-in seating, heating and lighting to ensure your users are warm and comfortable.
Our Service Includes
Free site inspection and survey
A detailed consultation on the best solution for your premises and the best materials to use
Full design drawings and artist impression of how the finished product will look
Assistance with the planning process and all required documents submitted to the planning office
Full installation with the minimum amount of fuss or disruption
Can't find the perfect wooden shelter? We offer a made to measure design service - Get In Touch
Perfect for Use in Schools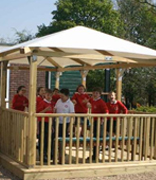 Our wooden shelters can be used in a variety of educational environments and can be used as, an outdoor classroom, playground shelter, buggy shelter, waiting shelter or even a smoking shelter.
Our range of shapes and sizes means there is something to suit every use, no matter what space is available. Our canopies are 100% waterproof, so you can be sure that staff and children alike will all be kept warm and dry, whatever the weather.
A wooden shelter forms an excellent outdoor classroom, which is a fantastic way for children to learn in a different environment, providing a much needed change of scenery. The wide range of sizes available means that an outdoor classroom can be accommodated just as easily as a cosy waiting or smoking shelter.
Our wooden shelters also provide wonderful outdoor eating and play areas, ensuring that children can still enjoy the benefits of fresh air whilst still being protected from the elements. With wood treatment that meets children's playground grades, and protection from splintering, these shelters provide a safe and inspiring learning environment.
Wooden Gazebos - Suitable for Outdoor Classrooms and Learning Areas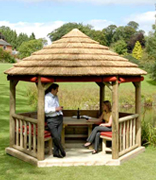 Our wooden gazebos provide superb outdoor learning areas for schools of all sizes. Whether it is for a full class or just small groups, we can provide a gazebo to meet your needs.
These marvellous outdoor classrooms give your school the chance to extend pupils learning opportunities, allowing them to work closer to nature. Learning in a fresh and natural environment can have positive effects on children's health, wellbeing and their overall education.
Our special wood treatment means that the gazebos will not splinter, even after years of use, and each one meets children's playground grades. This means not only can you provide a functional and exciting learning environment, you can also rest assured that the children will be safe and protected.
The open sides of the gazebo mean that children can take in the world around them whilst remaining undercover. Our range of different shapes means that a wooden gazebo can be accommodated in any area of the school for learning and shelter, whether it is for pupils, parents or staff to enjoy.
Useful Information
Contact SAS Shelters today for a Free Site Survey & No Obligation Quote - Get in Touch