Wooden Fencing and Gates
Our wooden fencing is ideal for any schools, parks, recreation grounds, colleges and nurseries. It is an attractive and non-intimidating form of fencing which can be painted in a range of different colours.
We offer a full range of wooden picket fencing, including our fun Crayon fencing which adds a lovely splash of colour to your play area. Wooden fencing is perfect as a perimeter fence or for dividing different areas within school grounds.
Our wooden gates and fencing is strong, robust and long-lasting. Our durable round fencing is ideal for any playground as the round timber prevents children from climbing. All of our wooden fencing can be painted for extra weather protection.
Benefits Of Wooden Fencing
Protects children from intrusion whilst playing
Wooden fencing is attractive and so fits any environment
Offers peace of mind for parents, teachers and carers
Protects the playground from vandalism and dog fouling
Easy to maintain
Contact SAS Shelters today for a Free Site Survey & No Obligation Quote - Get in Touch
Wooden Fencing
Why Choose SAS Wooden Fencing
Choosing the right type of wooden gates and fencing for your school or play area is imperative, and at SAS we can offer you a choice of all types of wooden picket fencing.
Our bespoke service means that we can custom build your fencing using our experienced carpenters to meet your exact requirements.
We offer all of our customers a full personal service that includes design, manufacture and installation, making the whole process easy and hassle-free for you.
We use the very best materials and our 50 years of experience in the manufacturing industry means you can enjoy top quality workmanship and expertise. Your wooden fencing will not only be durable and long-lasting, but also attractive, fitting in with any environment.
Our Service Includes
Free site inspection and survey
A detailed consultation on the best solution for your school and the best materials to use
Full design drawings and artist impression of how it will look in your school
Assistance with the planning process and all required documents submitted to the planning office
Full installation with the minimum amount of fuss or disruption
Require a custom solution? We offer a made to measure design service - Get in Touch
Playground Fencing For Schools - What Should I Consider?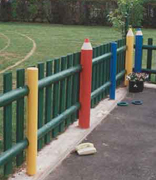 As schools are responsible for the safety of their children, there are a number of important factors to consider when choosing your playground fencing.
Fencing is one of the most effective ways to keep children safe when they are outside. A physical barrier is something that is understood by all children, whatever their age. Fencing can be used for external perimeters or to differentiate areas within the school grounds. Not only will this help to keep children in the right place, it will also deter any unauthorised visitors.
Fencing around the perimeter of your school provides you with the opportunity to create access points. This means you can control where people enter and leave your premises, making it easier to keep track of who is on site. These access points can be strategically placed to control the flow of people, for example, keeping your main entrance near reception drives all visitors to your reception area.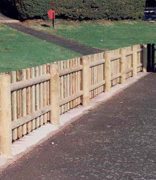 Wooden fencing can also be used within the school grounds to designate different areas. This could be different zones such as outside classrooms, active areas, quiet places or nature sections. Fencing not only keeps children within the correct areas, it can also be used to protect them by fencing off ponds or other hazards. Fences can also be used in busy areas of the school to help organise children and prevent accidents.
Fencing can also be used to separate younger children from the rest of the school. All Early Years Foundation Stage settings need to be segregated in order to provide a safe environment for young children who are still perfecting their motor skills and balance.
You need to ensure that whilst your fencing is practical, it also remains attractive and fits in with your environment. Whilst this makes the premises seem more welcoming, it has also been shown that unattractive and imposing fencing can have a negative impact on the atmosphere.
Useful Information
Contact SAS Shelters today for a Free Site Survey & No Obligation Quote - Get in Touch