Traditional Perforated Cycle Shelter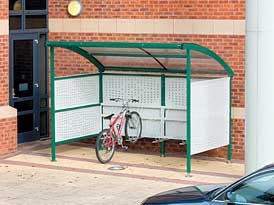 features
Size : 2320mm x 3000mm x 2100mm
description
This cycle shelter is designed with a more curved feel aiming to blend in with traditional and modern areas whilst still providing a secure and covered storage area for bikes.
This Shelter is also available in clear perspex
enquire
If you would like more information on this Traditional Perforated Cycle Shelter then please contact us.
SAS Shelters
Unit 1 Greenwood Court, Ramridge Road, Luton, Bedfordshire. LU2 0TN. UK.